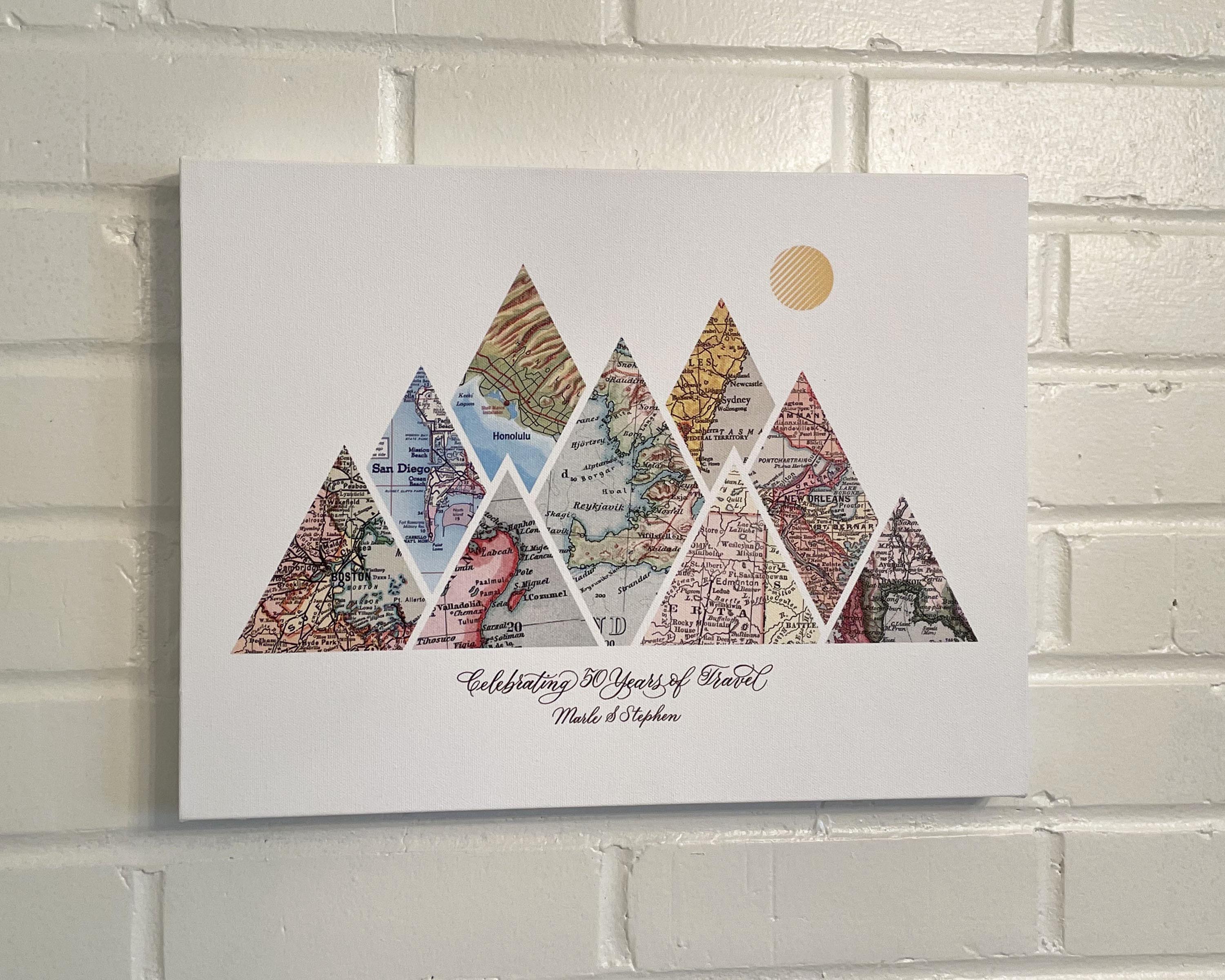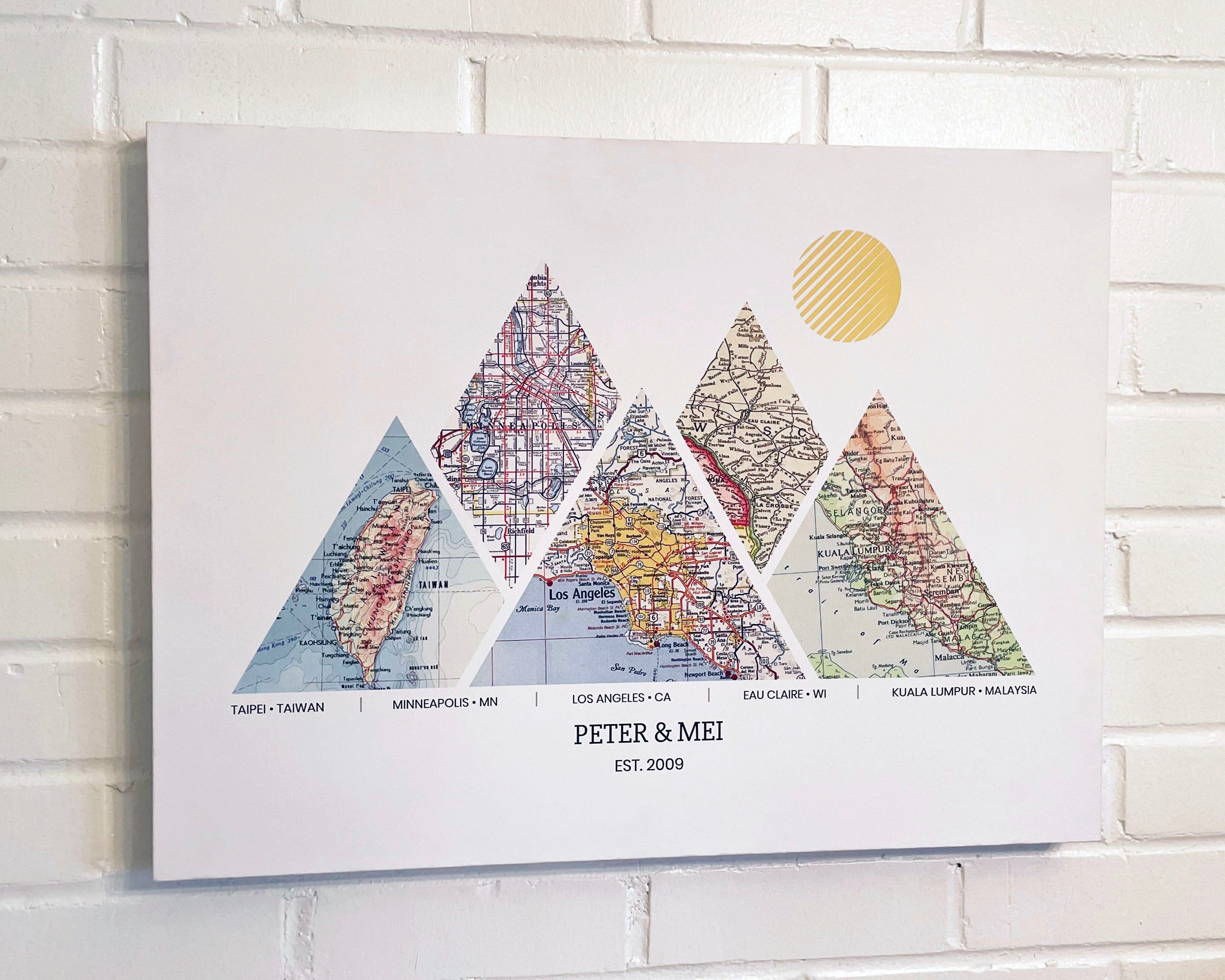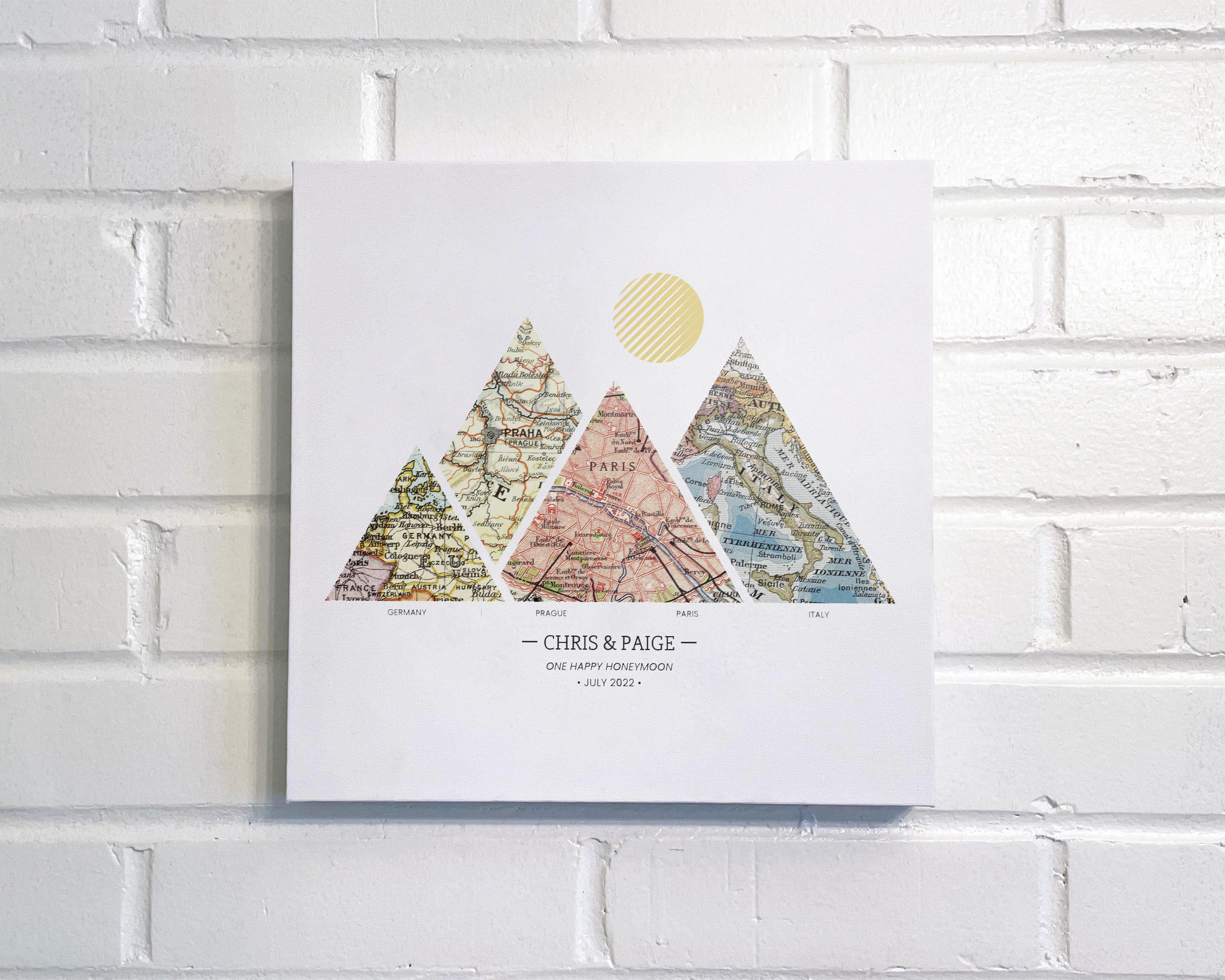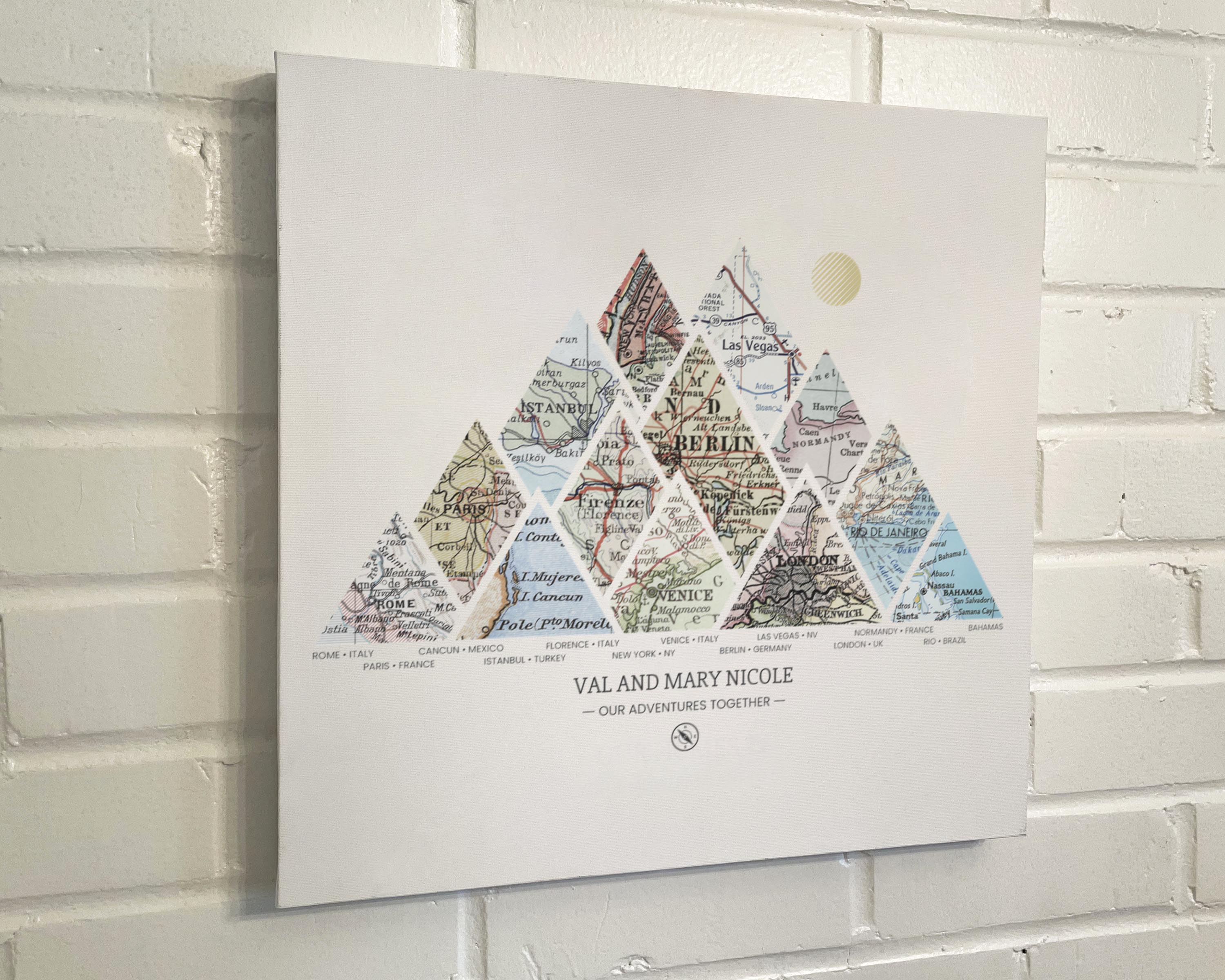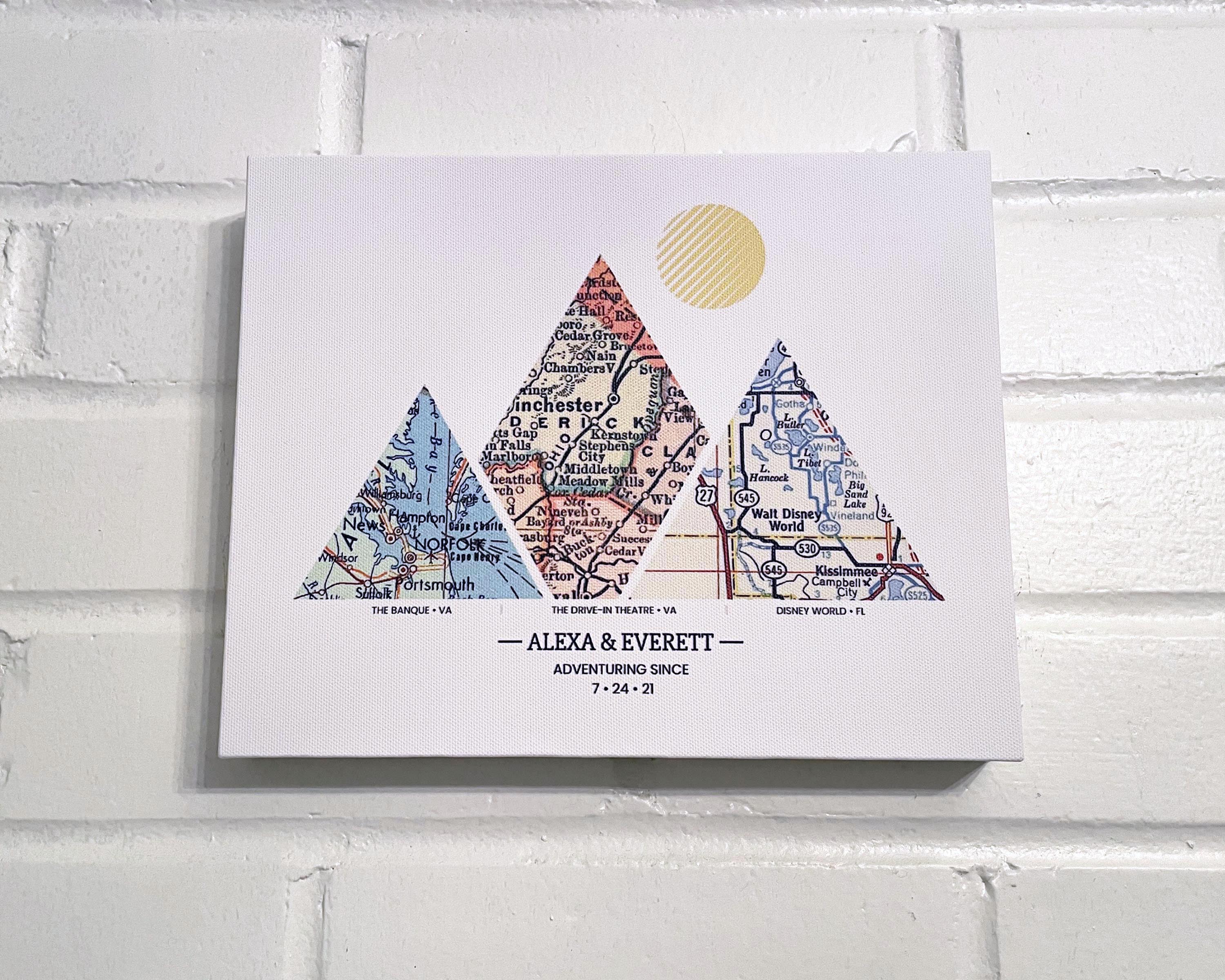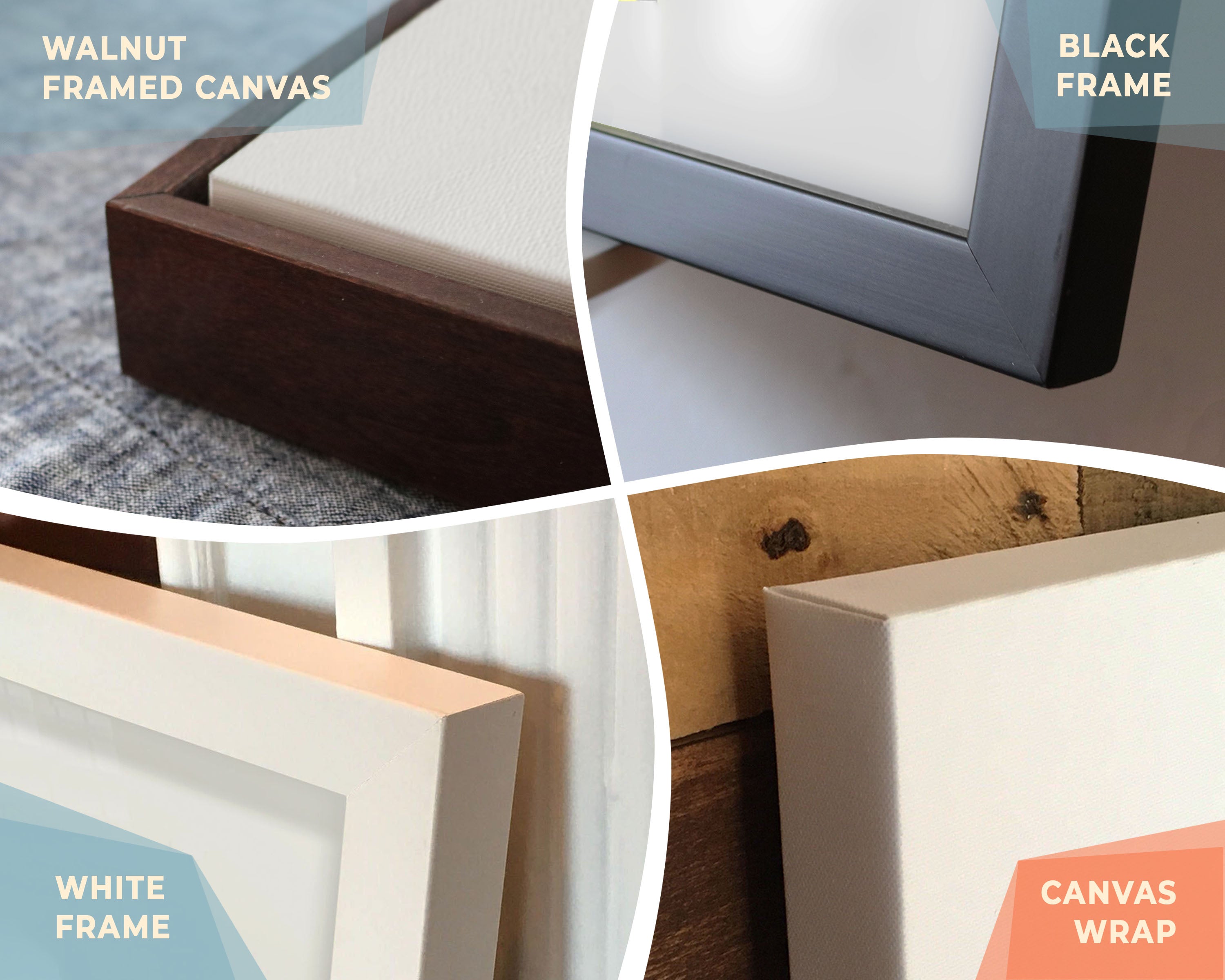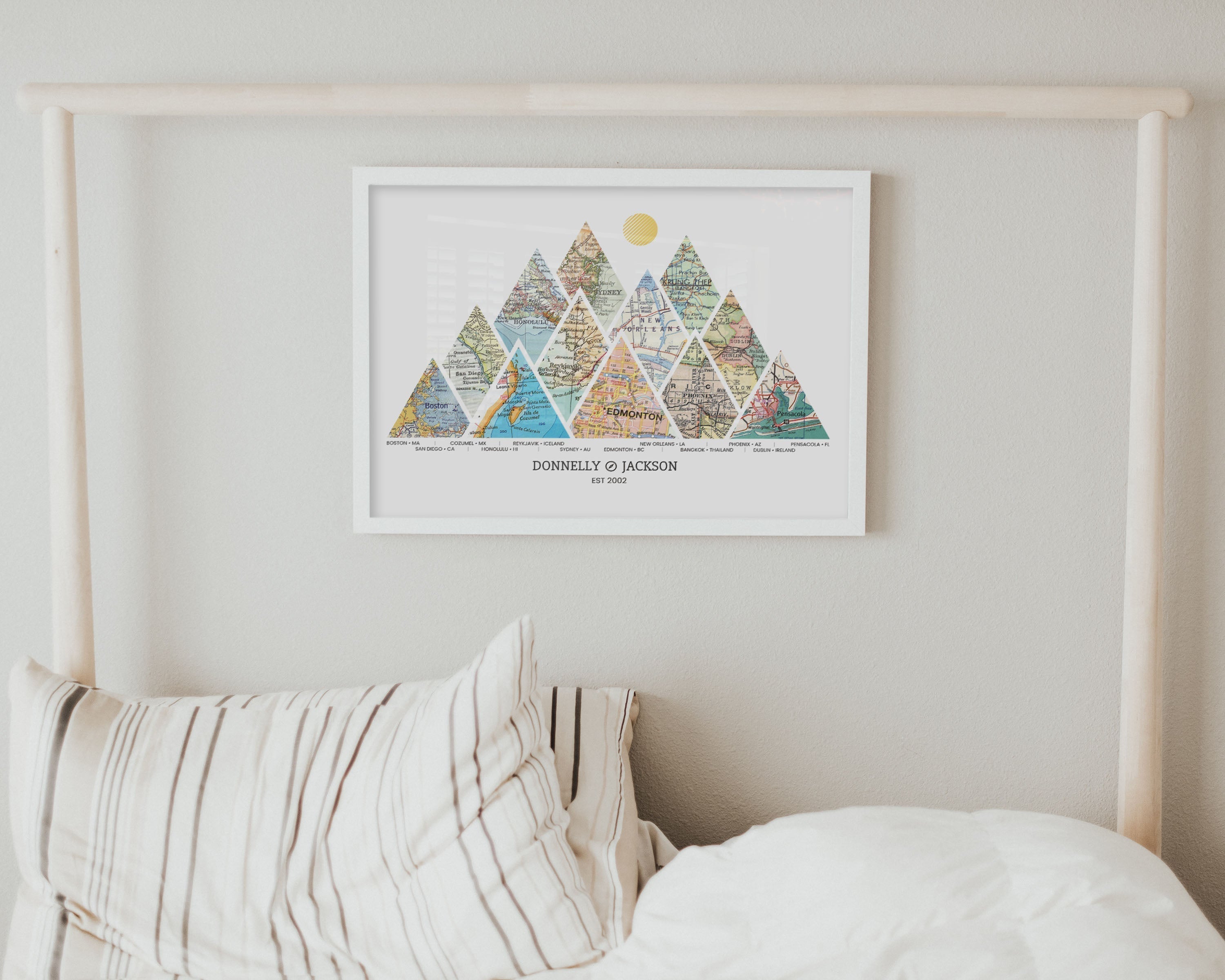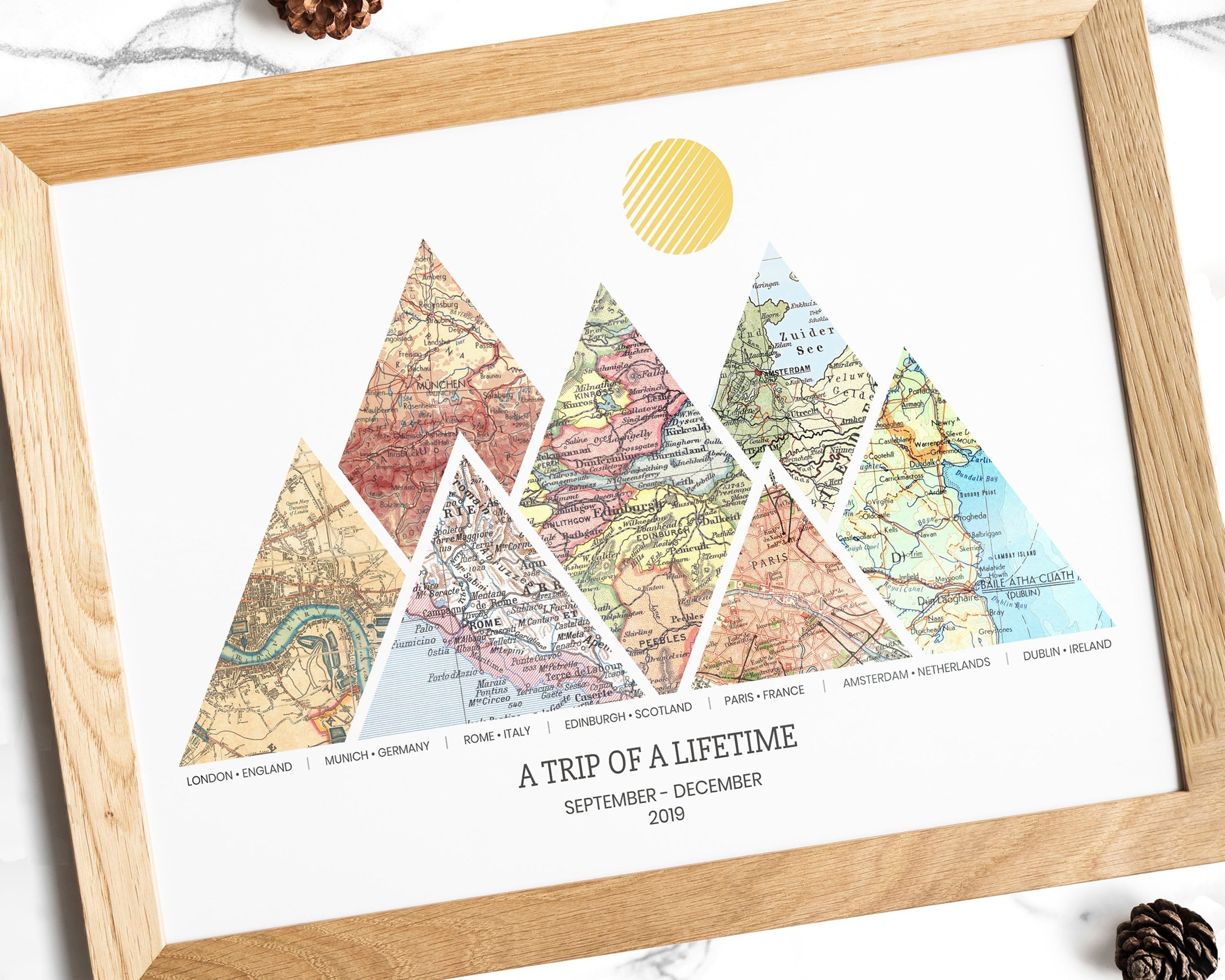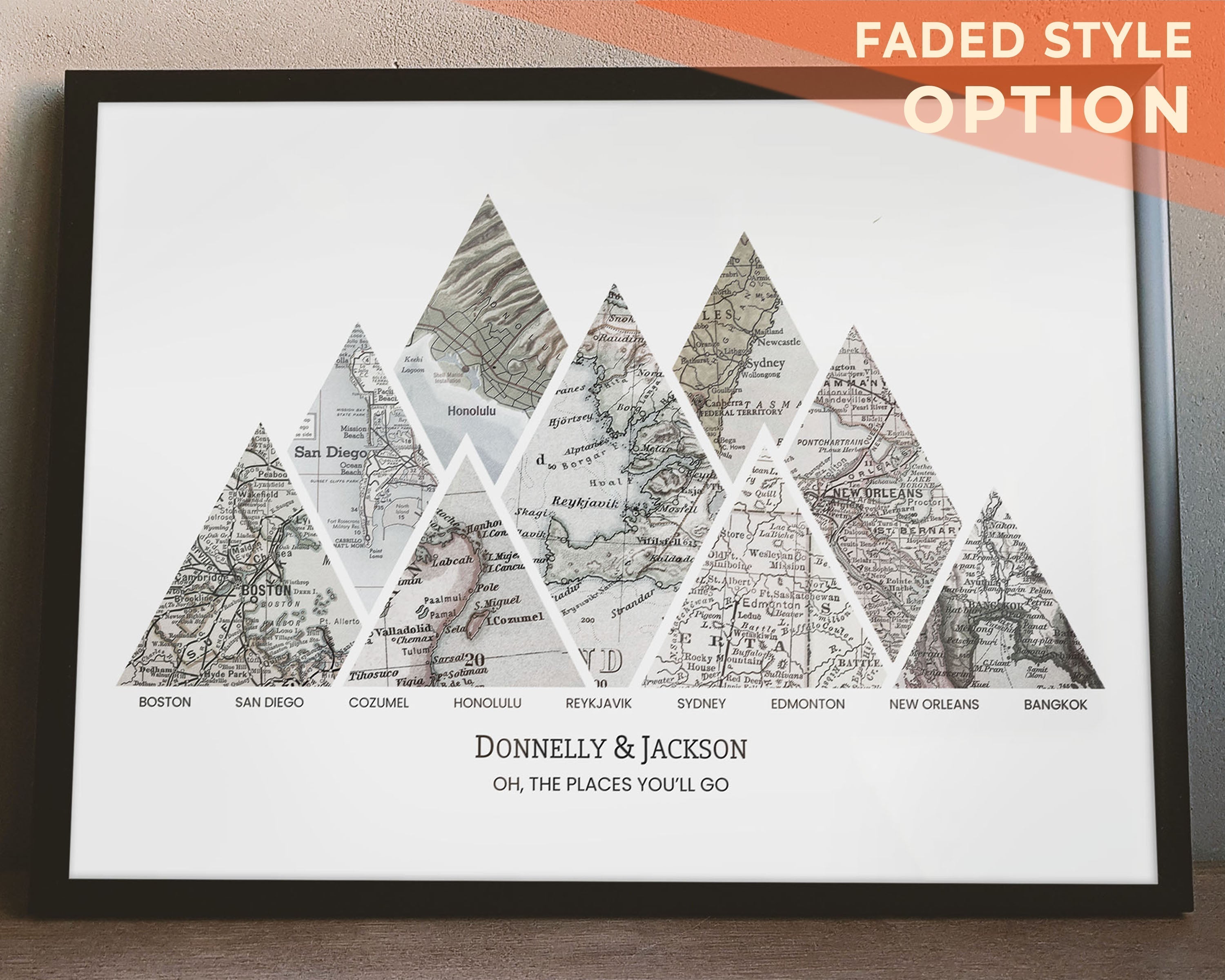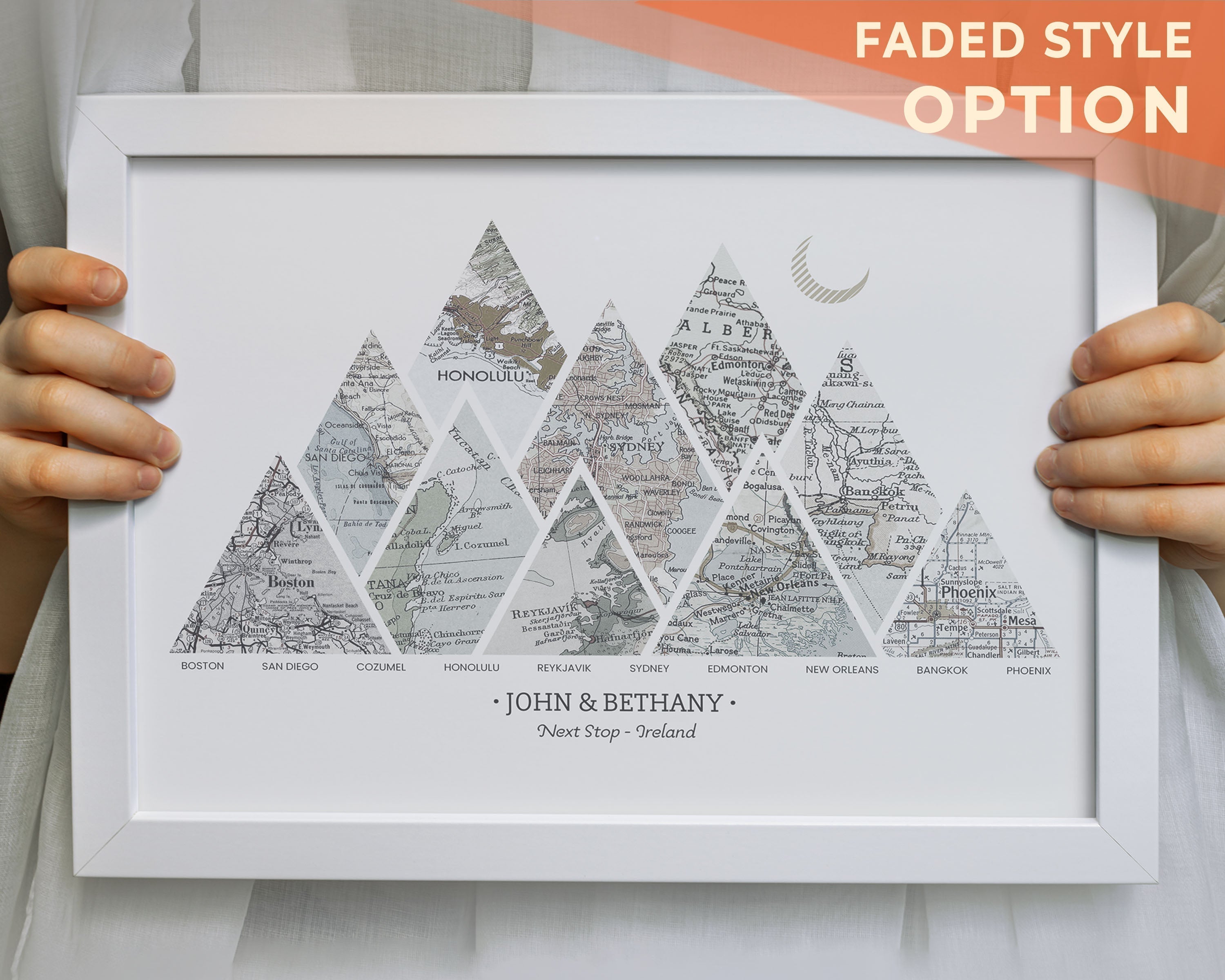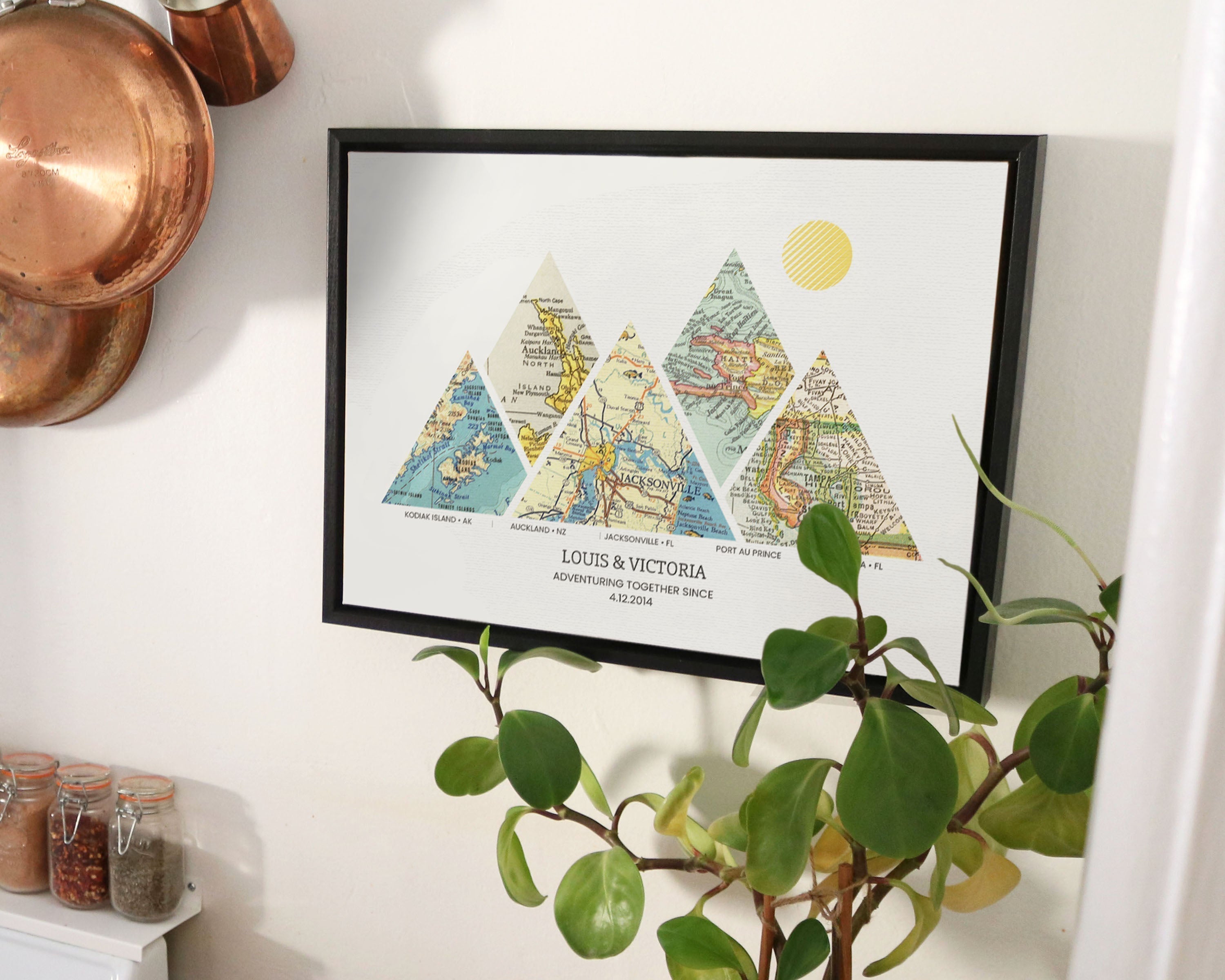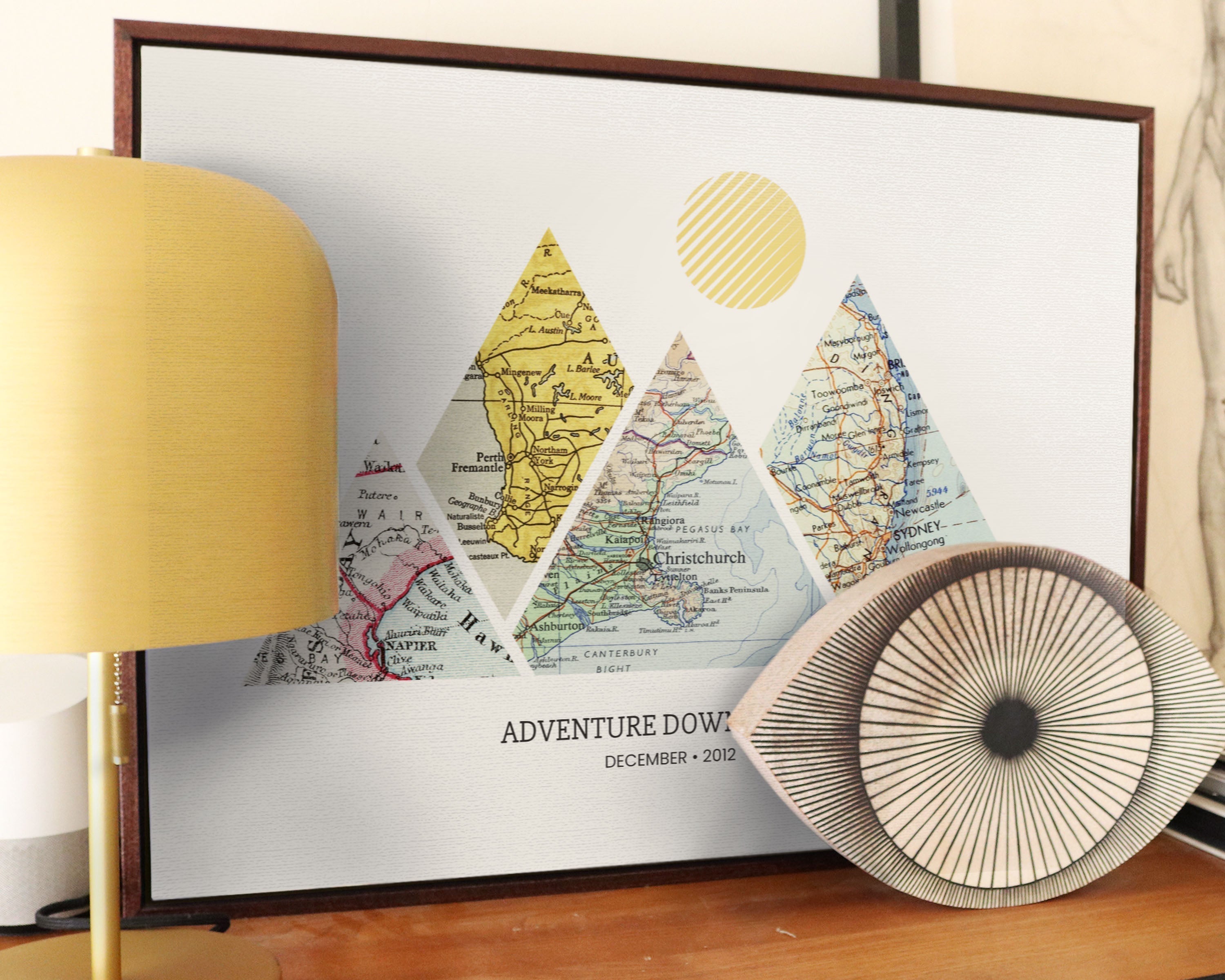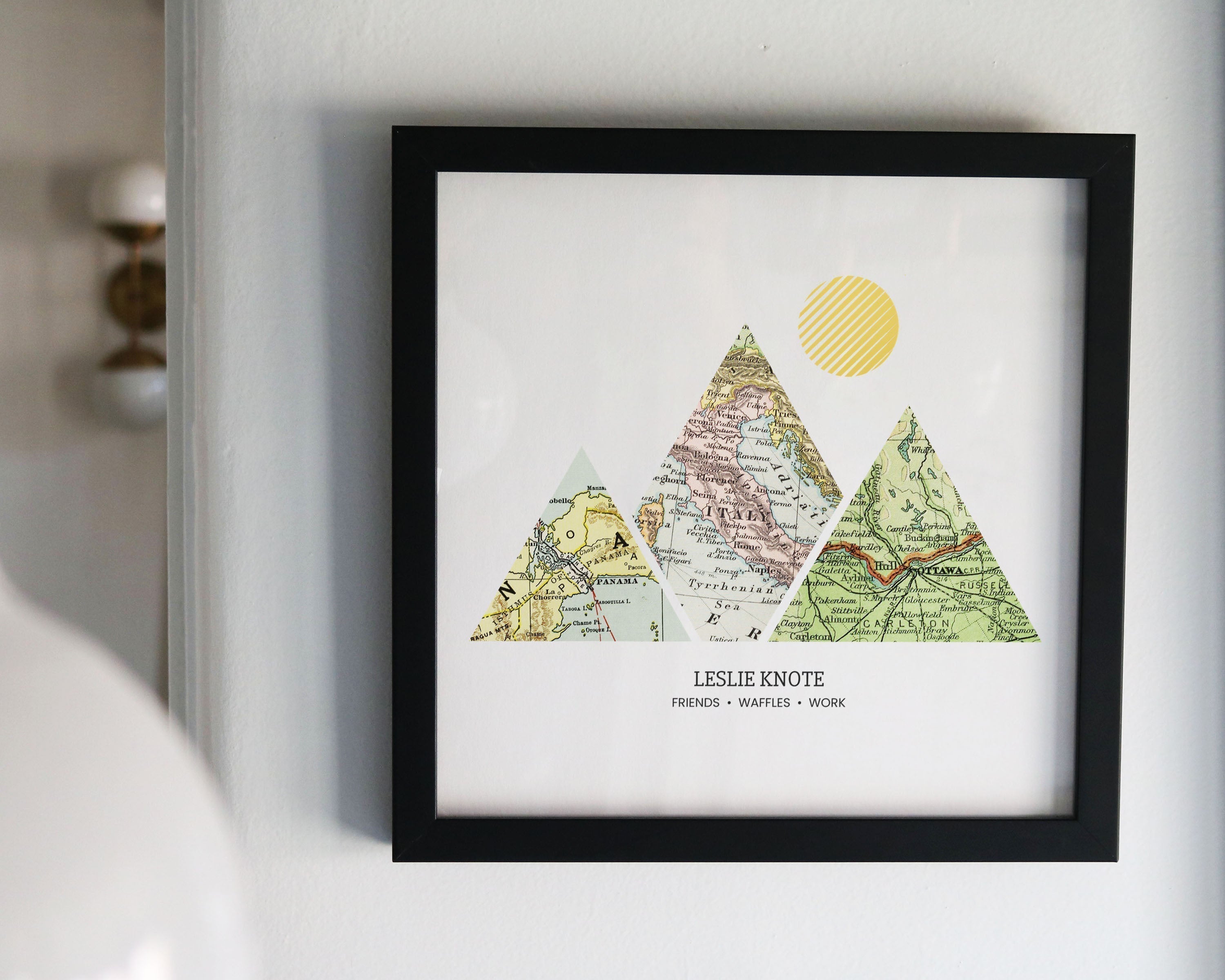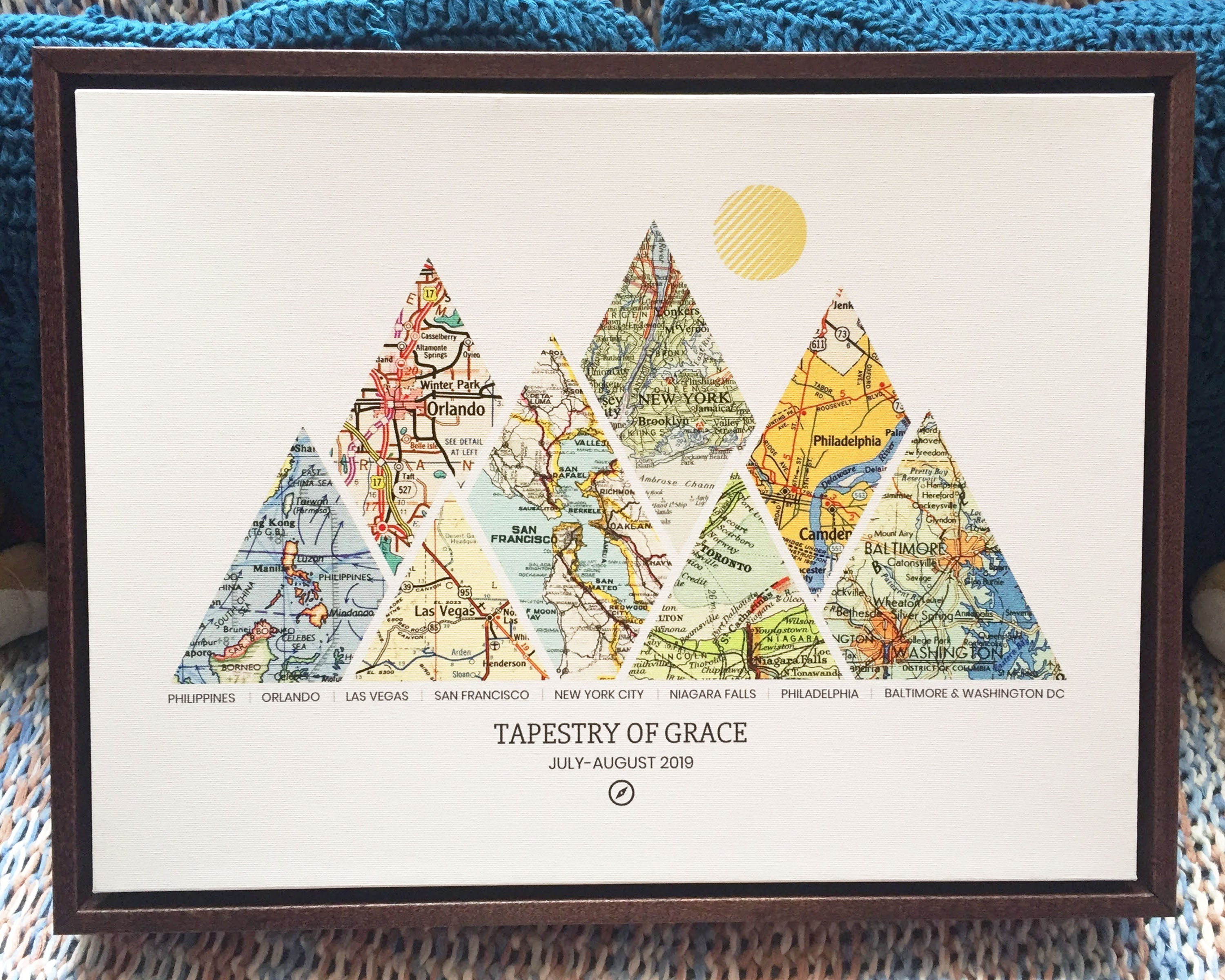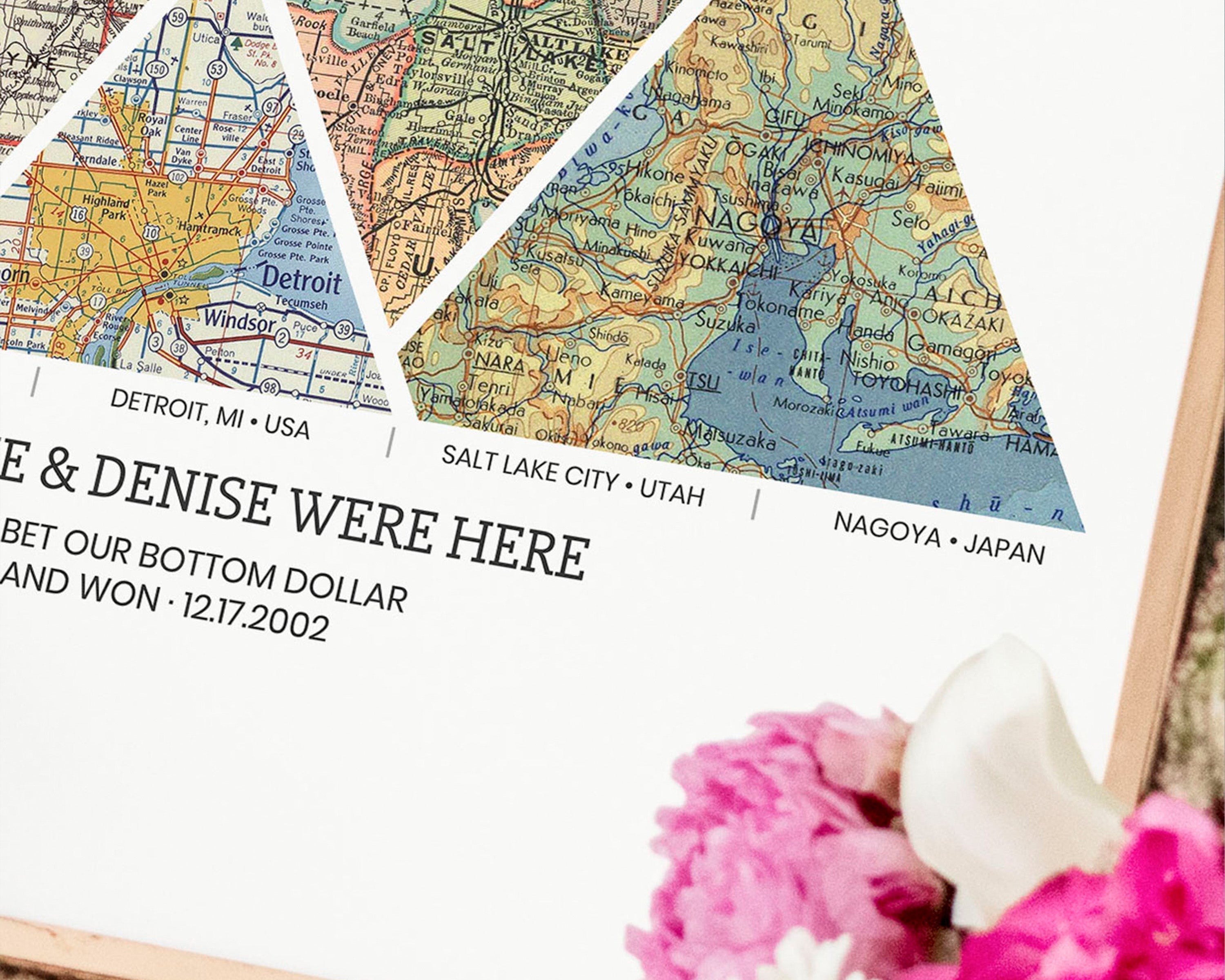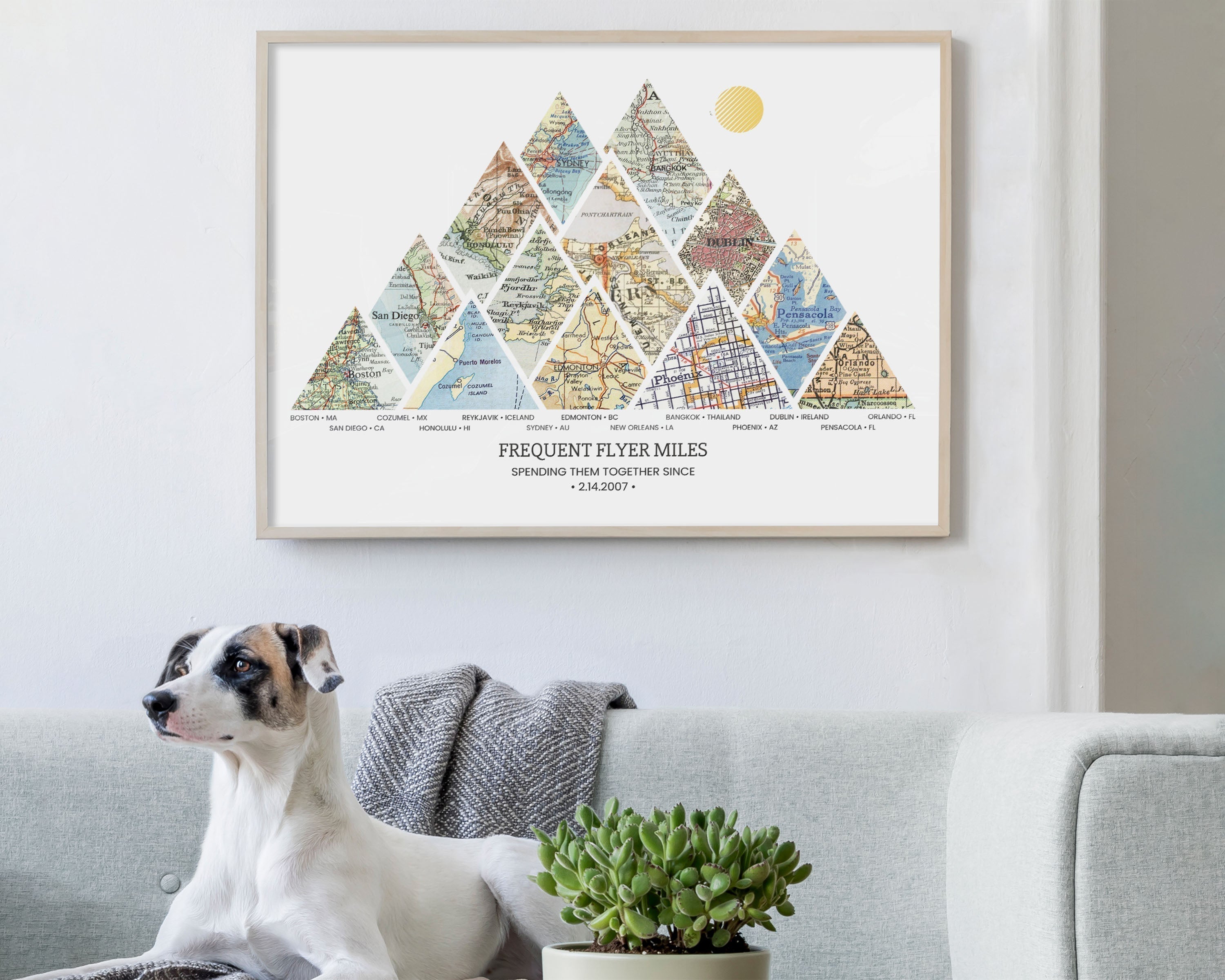 Milestones Map [Canvas Wrap]
Description
How it works
Ideas
Specs
You've climbed those mountains and hiked to distant shores. Proudly show off your conquests and celebrate your nomadic life with this elegant Milestones Map.

Makes a brilliant gift for your well-traveled friends.
1 👉 Give us a list of your meaningful locations
2 👉 We source and select maps of your locations using our massive collection of high definition vintage maps, and compose them in a way that best tells your story.
3 👉 We take your text and other requests, and arrange them artistically on the artwork.
4 👉 We send you digital proofs for you to see, revisions are free and unlimited.
5 👉 With your approval, your one-of-a-kind artwork will be printed, packaged, and shipped to you or a gift recipient.
6 🤞 You find a $20 bill in an old jacket (results may vary)
______________________________
OUR INCREDIBLE JOURNEY
Jim & Pam
______________________________
BILL & LISA
Adventuring Together since
01.06.2012
______________________________
THERE AND BACK AGAIN
more adventures to come
______________________________
SUMMER VACATION 2018
Cairo · Dubai · Istanbul
______________________________
THE ESTENSONS
Larry · Dave · Cheri
home is where your heart is
______________________________
WHERE IN THE WORLD IS
Carmen San Diego? 💃
______________________________
Print Only • Black Frame • White Frame
Your artwork is printed on museum quality thick matte paper at 300 dpi.
More specifically:
📐Paper thickness: 10.3 mil
🏋Paper weight: 5.6 oz/y² (192 g/m²)
🔎Paper opacity: 94%
💎Gicléequality prints
______________________________

Black Frame • White Frame
Frames are painted composite wood with 0.75" thickness. No grain is shown.
Your artwork is covered by a clear reflective Acrylite cover (shipping safe glass).
Hanging brackets are included on back.
______________________________
Canvas Wrap • Framed Canvas
Our canvas is actually a thick and durable canvas textured vinyl, which requires minimal upkeep. Easily cleaned with light soap and cloth,
Framed canvas frames are 2" deep and has visible wood grain.
Milestones Map [Canvas Wrap]
Frequent Asked Questions
What will my art look like?
You already know we have the most extensive vintage map collection around. For any given location there could be up to 20 different map options of different periods, styles, and zoom levels.
But did you know all of our maps scans have also been meticulously remastered and brought back to their original vibrancy?
Every order is Unique
For each order, we try to feature and balance colors, styles, scale and meaning, to achieve the maximum interest, variety, and cohesion to your artwork.
Will I have a chance to preview my order?
Yes! Every order goes through our proof-and-approval process before anything is printed.
You will have unlimited opportunities to tweak and revise your print as needed.
Because of the upfront thought and effort we put into your design, on average it only takes 1.5 revisions to secure an approval.
Why are more maps more expensive?
Glad you asked. We research each location provided to understand the geography around it to match it with the best looking map.
We then try to coordinate the styles, and colors of all the location choices to make a visually compelling combination.
As the map count goes up, the difficulty of the task compounds exponentially.
Can I make custom requests?
Yes! We are able to fulfill most custom requests. Your artwork should be meaningful to your story.
We can follow specific color cohesion requests, for example, black-and-white or warm hues for maps.
We can arrange our text in creative ways, maybe you want to include an entire poem or sonnet. Or no text at all! Let the maps speak for themselves.
We can even insert photos instead of maps into certain sections.
Feel free to ask!
What if I don't like my art?
If you're not happy, we're not happy. In fact, it makes us incredibly sad.
Our proof-and-review process means that if you aren't satisfied with what we're doing, we won't give up on trying to make it right.
However, sometimes, certain gifts were just not meant to be. Anytime prior to giving your approval, you have the option of requesting a judgement-free 100% refund.
When will I receive my artwork?
There are three phases to a package on your doorstep. The good news is that 75% of our orders fall on the low end of these estimates. You'd be surprised how quickly it all comes together.
________________________________
1. Design & approval 2-3 days
our initial proofs for you typically arrives within 2 days (3 during the busy seasons).
________________________________
2. Printing & Packaging 2-4 days (4-6 days canvas products)
Each frame is assembled, balanced and checked for defects before your print is carefully placed.
Canvas products take longer, as stretching takes time and we reserve extra time to fix issues as it has a tendency to bubble or become crooked.
________________________________
3. Shipping 2-5 days (more during holiday season)
Depending on the destination, size of package and season, we ship with FedEx, UPS, and USPS interchangeably.